Ever wondered exactly how to go about making a silk flower cake topper?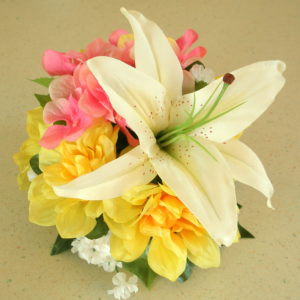 Ever considered designing your own silk flower wedding cake topper?
Want to try your hand at designing silk flower cake toppers to sell?
If so, "Like" us on Facebook and we'll let you know as soon as our awesome How to Make Silk Flower Cake Toppers ebook is available!
This concise, one-of-a kind ebook will provide you with all of the following:
Simple, easy-to-follow steps and tips for making silk flower cake toppers
Instructional color photos
Tools and supplies needed
Where to buy silk flower cake topper supplies at the best prices
Overview of different types of silk flowers
Beautiful silk flower cake topper design ideas
Tips on caring for and transporting your cake toppers
Bonus: How to Make a Silk Flower Wedding Bouquet
Interested in selling your own silk flower cake toppers? Go ahead! We'll even give you some tips and point you to the best places to sell online!
All this wealth of information for only $2.99!
Interested yet?
Go ahead, "Like" us now and be one of the first to take advantage of this deal!