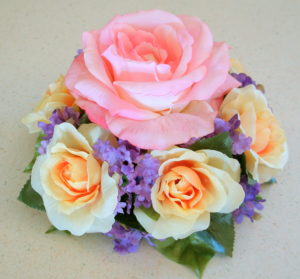 Enjoy selecting the perfect silk floral cake topper, at the perfect price, to grace your cake with elegance.
Visit our Shop to browse our unique silk flower cake toppers. A stunning selection meets all your special occasion needs. Ideal for Weddings, Anniversaries, Showers, and more!
Our silk flower arrangements also make lovely centerpieces. Best of all, these flowers never wilt, so you can treasure them as keepsakes or display and reuse for years to come.
Prices start at $14.99.
"Like" us on Facebook for the latest cake topper updates.